— our story —
Avery Graham's NameSake
How does a story begin? Most likely, without you even knowing. When I stand here and look back, it all seemed to have a flow with intention, that each step was creating momentum to bring me to this point. Though at the time I did not realize it, each part was designed and executed with purpose, intention and a mission. I always said that I would build my practice one patient at a time and that if I could make that patient happy, than hopefully it would lead to my next. My Avery Graham story began when I read the first page of my grandmother's bible and admired her father's name. Avery Graham Jones 1894-. I remarked to her that someday I would name my child Avery Graham. It seems with the opening of our new flagship, Avery Graham Aesthetics, I am reminded of all the little moments that have created my story. From admiring my grandmother's father's name to being a candy striper at the Hospital of the University of Pennsylvania, roaming the halls at Penn, helping the nurses and doctors care for patients, learning how to make a perfect bed and acknowledging the small details that can make someone feel better and help them along, I realize now my story has come full circle and all these small little details have brought me to one place. Avery Graham is a reflection of my noble grandfather; hence, Avery Graham Noble Skincare's name.
After 26 years of practicing as a clinical aesthetician, and pioneering the field of paramedical aesthetics with top docs, plastics surgeons and dermatologists, I realize that all aspects of caring for patients, creating innovative products, being on the cutting edge of advances in technology and even returning back to Penn Medicine with my custom skincare creations, brought me to open our first flagship Avery Graham aesthetic practice. This is how my story began, and now I am looking forward to creating my next chapter.
Avery Graham Aesthetics Flagship
Avery Graham's philosophy is based on its own mantra of "combining the clinical with the luxurious." In that spirit and with commitment to honoring Philadelphia's history, Avery Graham proudly establishes its flagship on the foundation of the ever-beloved, iconic WPEN building. Furthermore, this company dedicates itself fully to deliver the best technologies for all things health, wellness and skincare by designing a visually captivating space that aligns itself with the ancient science of stress-free living while simultaneously educating, caring for and introducing our patrons to premier experts of the health and aesthetic industry. No longer will patients choose between clinical results and worldly restoration; these experiences, at Avery Graham, are not mutually exclusive. Avery Graham is Philadelphia's sole guide to finally having superior care given with the highest intelligence, intuition, integrity, authenticity and passion. 
— profile —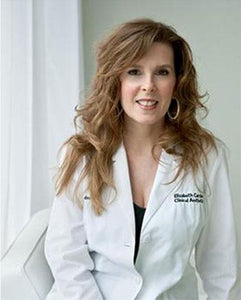 Elizabeth A. Cardarelli is known as one of the most trusted practitioners of paramedical esthetics. As a pioneer in the field, she has developed a myriad of proprietary products for medical practices as well as the Avery Graham Skincare line. Elizabeth has spent her life seeking out the most effective and advanced formulas for skin care solutions. As a skin care expert and coach with twenty years of experience, she has formed associations with top dermatologists, plastic surgeons, and research scientists to advance the integration of skin care and medicine.
Years ago, when the field of Aesthetics was just burgeoning, Elizabeth became a Licensed Clinical Aesthetician and founded a successful skin care clinic and "About Face" skincare products. She went on to form professional alliances with several of the country's top plastic surgeons.
Combining the clinical with the luxurious, Avery Graham products combine concentrations of botanical and plant extracts with pharmaceutical reparative ingredients. The perfect compound of wellness, science, and nature. Avery Graham's Puriety Collection is offered as an exclusive amenity at Penn Medicine's Pavilion, a unique personalized patient option offered at one of the nation's top healthcare providers, The Hospital of the University of Pennsylvania.
Elizabeth believes wholly in the practice of a healthy lifestyle and it's impact on the quality of skin. Her boutique concierge practice is reflected in her commitment to continuity of care for her patients and is evidenced in the efficacy of her personalized treatments and custom products. With programs designed specifically for various skin conditions, Elizabeth treats the full range of concerns from acne to aging skin specializing in Pixel Skin Resurfacing, Laser Hair Removal, and Intensed Pulsed Light with a focus on maintenance, preservation, and rejuvenation.
— staff —
Dr. Kathy Rumer
Physician
Dr. Kathy Rumer is a highly experienced, and nationally-recognized, plastic and reconstructive surgeon. She is one of the few female board-certified plastic and reconstructive surgeons in the Philadelphia tri-state area. She is also a Fellow of the American College of Osteopathic Surgeons.
Dr. Rumer brings a unique background to her practice, combining advanced mathematics, engineering, art, and science to provide her patients with the best possible experience. She received her bachelor's degree from Ursinus College, with a major in Applied Mathematics. She also acquired a formal education in Fine Arts and engineering. Following college, Dr. Rumer was an aerospace engineer and a member of various NASA/space shuttle satellite launch teams.
After spending nearly a decade working in the aerospace sector, Dr. Rumer was driven to make a commitment to helping others, which led her to pursue a career in medicine. Dr. Rumer earned her medical degree from Philadelphia College of Osteopathic Medicine, where she also completed a fellowship in plastic and reconstructive surgery and a residency in general surgery. Dr. Rumer has been in private practice since 2007. Her primary office is located on the Main Line, in Ardmore.
Jennifer DiMaio Petroski
Patient Coordinator
Although known for her extensive knowledge of skincare, injectables and facial surgery, it is Jennifer's commitment to customer service, her effortless ability to listen to, guide and help each patient with honesty, warmth and integrity that makes having her as Avery Graham's Patient Coordinator such an honor.
Jennifer said it best, "everyday I show up to work with a smile and a positive attitude. I want to make each and every person feel welcome, understood and well taken care of. Most importantly, I want people to know they can trust me and that I have their best interest at heart. Knowing I am able to maintain a comfortable rapport with every client is truly what makes me feel happy and blessed."